The Year of the Rabbit is about to begin! Chinese New Year or Lunar New Year is the festival that celebrates the beginning of a new year on the traditional lunisolar Chinese calendar. Lunar New Year 2023 falls on Sunday, January 22nd, 2023, and celebrations continue the weeks following. 
Chinese New Year is one of the most important holidays in Chinese culture, and has strongly influenced Lunar New Year celebrations of its 56 ethnic groups, such as the Losar of Tibet (Tibetan: ལོ་གསར་), and of China's neighbours, including the Korean New Year (Korean: 설날; RR: Seollal), and the Tết of Vietnam, as well as in Okinawa. It is also celebrated worldwide and plays a significant role in British Columbia.
If you're looking to take part in these magical celebrations, here are a few options to keep in mind!
Lunar Events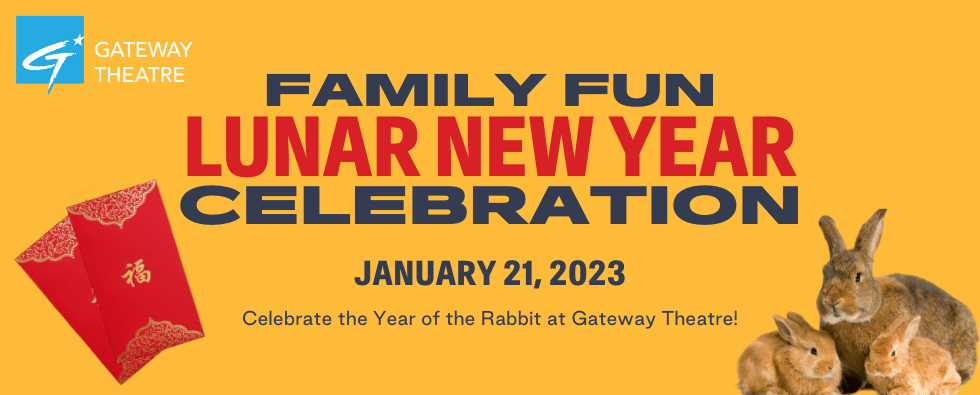 Family Fun Lunar New Year Celebration
農曆新年闔家歡
January 21, 2023
10 AM & 1PM
Learn about Lunar New Year traditions in a fun, playful way with the whole family! Gateway Theatre is inviting everyone to an entertaining live reading of Bun Fun New Year (繽紛新年) – a humorous tale of Bunnifer and Bunnithy as they prepare a traditional Lunar New Year family feast. Welcome the Year of the Rabbit by practicing some 'bunny dance moves' and let your children's imagination soar with themed craft activities.
Limited spots available. Tickets only $8 HERE.
Lunar New Year at the Garden
Janauary 21st and 22nd
Immerse yourself with an array of performances (including Lion Dance, Guzheng and City Opera Vancouver), Arts & Crafts, activities & activations, delicious food and witness the premiere of a brand new Exhibition by Chairman Ting!
Eight Lucky Ways to Welcome the Year of the Rabbit at Metropolis at Metrotown
January 22 through February 5, 2023
The largest shopping centre in BC will usher in the Year of the Rabbit with cultural workshops, live entertainment and atmospheric décor.
2023 Lunar New Year Chinatown Parade
January 22
Celebrations start at Vancouver's historic Chinatown with the annual Chinese New Year Parade which has been held by the Chinese Benevolent Association of Vancouver since 1979
The Lantern City at Granville Island
January 29th to February 21st
Inspired by the youthful spirit of Granville Island, The Lantern City is excited to exhibit lanterns featuring artists who have captured the wonder and playfulness of children.
Whether you're Chinese or not, Lunar New Year is a great opportunity to experience the celebrations of another culture and educate your children!
xin nian kuai le!